Today, Sviatlana Tsikhanouskaya started her working visit to London. She visited the Foreign Office, where she met with Foreign Secretary James Cleverly and Europe Minister Leo Docherty.
The following issues were discussed during the meeting:
Repressions in Belarus. Ms. Tsikhanouskaya talked about the recent sentences of Siarhei Tsikhanouski, Ales Bialiatski, rail partisans, members of the Coordination Council, and herself. Sviatlana Tsikhanouskaya urged the UK to impose individual sanctions against judges and prosecutors involved in the trials.
Possible Belarusian involvement in the war. Sviatlana Tsikhanouskaya called for sanctions against Lukashenka's MPs, propagandists, bureaucrats, and military officials who assist the regime and support the war. She urged the UK to align its sanctions with the European Union and close the loopholes used by the regime.
Support for the international platform for collecting evidence of Lukashenka's crimes, which has already gathered more than 15,000 documents needed for future trials. A criminal case against the Lukashenka regime within the International Criminal Court was discussed. Ms. Tsikhanouskaya noted that it is crucial that Lukashenka cannot escape responsibility for both war crimes and crimes against humanity.
De-recognition of Lukashenka. Sviatlana Tsikhanouskaya emphasized the importance of maintaining unity on this issue. Western countries are not appointing new ambassadors to Minsk because Lukashenka is not a legitimate representative of the Belarusian people.
Sviatlana Tsikhanouskaya asked the UK to:
Continue supporting independent media. Britain has been supporting training for journalists and media managers. At the same time, more Chevening scholarships could be provided in addition to the 10 granted to Belarusian students as of now. This is necessary for preparing the personnel for the new Belarus. She also asked for supporting a BBC Belarusian program or full-scale service.
Follow the situation with Belarusians living in the United Kingdom. Belarusians collect aid for Ukraine and join rallies but the legalization of stay has been an issue for many. As some Belarusians cannot travel to Belarus for safety reasons, they should have an opportunity to restore their documents in the UK without returning to Belarus if, for example, their passport has expired. She also asked the UK to continue issuing visas to Belarusians, despite all the difficulties.
Take a firm and strong stance on Belarus' independence and sovereignty.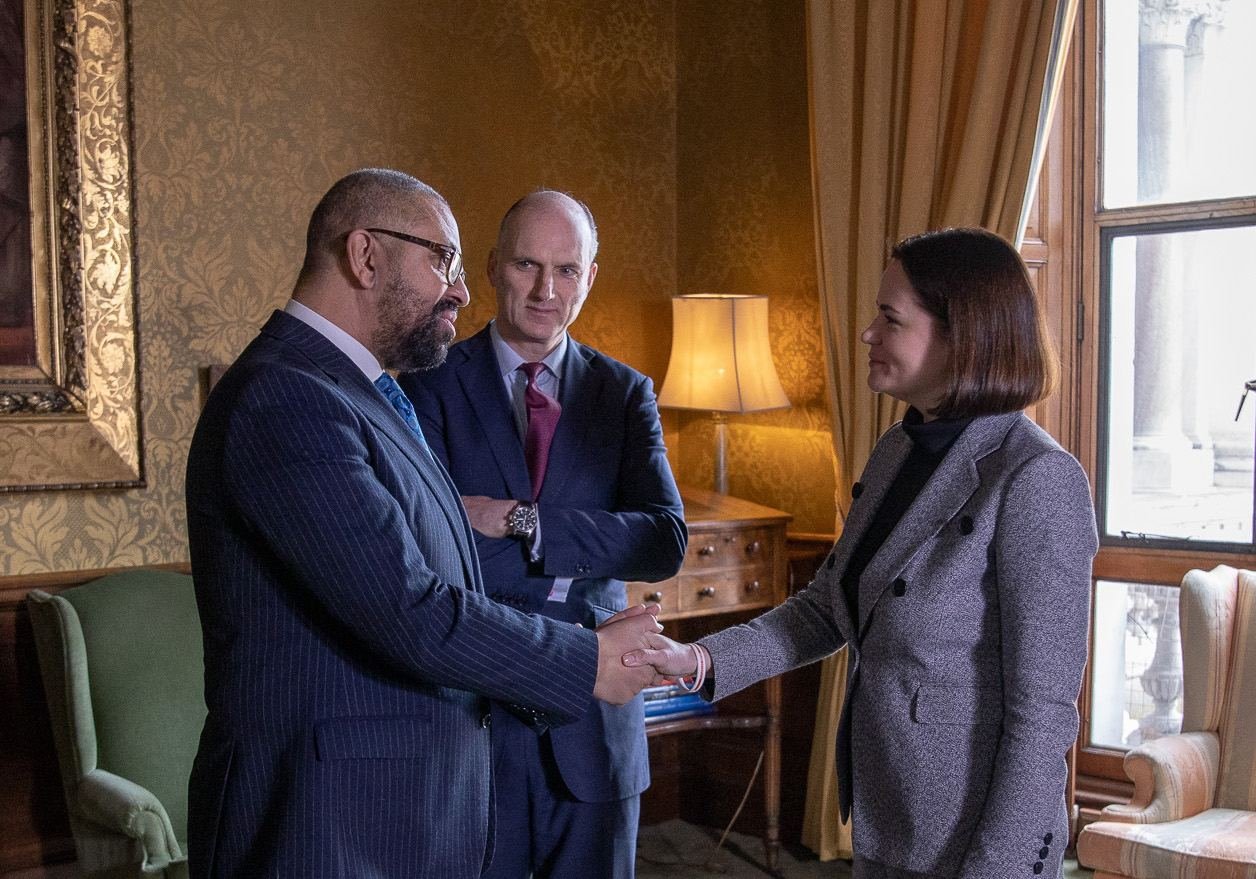 Source: Sviatlana Tsikhanouskaya