Sviatlana Tsikhanouskaya completed her visit to Finland, where she arrived at the invitation of the Minister for Foreign Affairs.
President Sauli Niinistö received Sviatlana Tsikhanouskaya at his presidential residence. She noted the consensus in Belarusian society on the inadmissibility of Belarusian troops' participation in the aggression against Ukraine and stressed that the deployment of Russian troops in Belarus indicates an attack on Belarusian sovereignty. The leaders discussed possible transit scenarios and the need for a principled position by the West in defense of Belarusian independence. Ms. Tsikhanouskaya emphasized that Russian troops must be withdrawn both from Ukraine and Belarus.
At the meeting with Minister for Foreign Affairs Pekka Haavisto, Sviatlana Tsikhanouskaya thanked him for the invitation and Finland's decision to support the European Humanities University and the International Accountability Platform for Belarus, which collects evidence of Lukashenka's crimes. Mr. Haavisto and Ms. Tsikhanouskaya discussed the recent repressive laws adopted by the House of Representatives and allowing the regime to revoke the citizenship of Belarusians. Sviatlana Tsikhanouskaya urged the Minister to support the invocation of the OSCE Moscow Mechanism and in case political prisoners are not released by spring, Article 33 of the International Labor Organization. At the meeting, they discussed bringing the Lukashenko regime to account, including through the International Criminal Court, as well as support for the Belarusian students and researchers and assistance for the Belarusian volunteer fighters. Sviatlana Tsikhanouskaya also underscored the inadmissibility of concessions and removal of sanctions in exchange for the transit of grain.
Sviatlana Tsikhanouskaya visited the Finnish Parliament, where she met with the Foreign Affairs Committee and the Finnish delegation to the Nordic Council. The MPs assured Ms. Tsikhanouskaya that they had completely halted communication with the regime's parliament. Sviatlana Tsikhanouskaya urged the MPs to take patronage over political prisoners, support their families, send letters, as well as establish a parliamentary group For Democratic Belarus. For the meeting, the deputies had prepared a legislative proposal to change the official name of the country "White Russia" to Belarus.

Photo: Sviatlana Tsikhanouskaya and the Foreign Affairs Committee

Photo: Sviatlana Tsikhanouskaya and the Finnish delegation to the Nordic Council
Sviatlana Tsikhanouskaya also met with Speaker Matti Vanhanen. They discussed the recent wave of repressions. Sviatlana Tsikhanouskaya appealed for support for human rights organizations working with political prisoners, as well as for hearings on Belarus in the Finnish Parliament.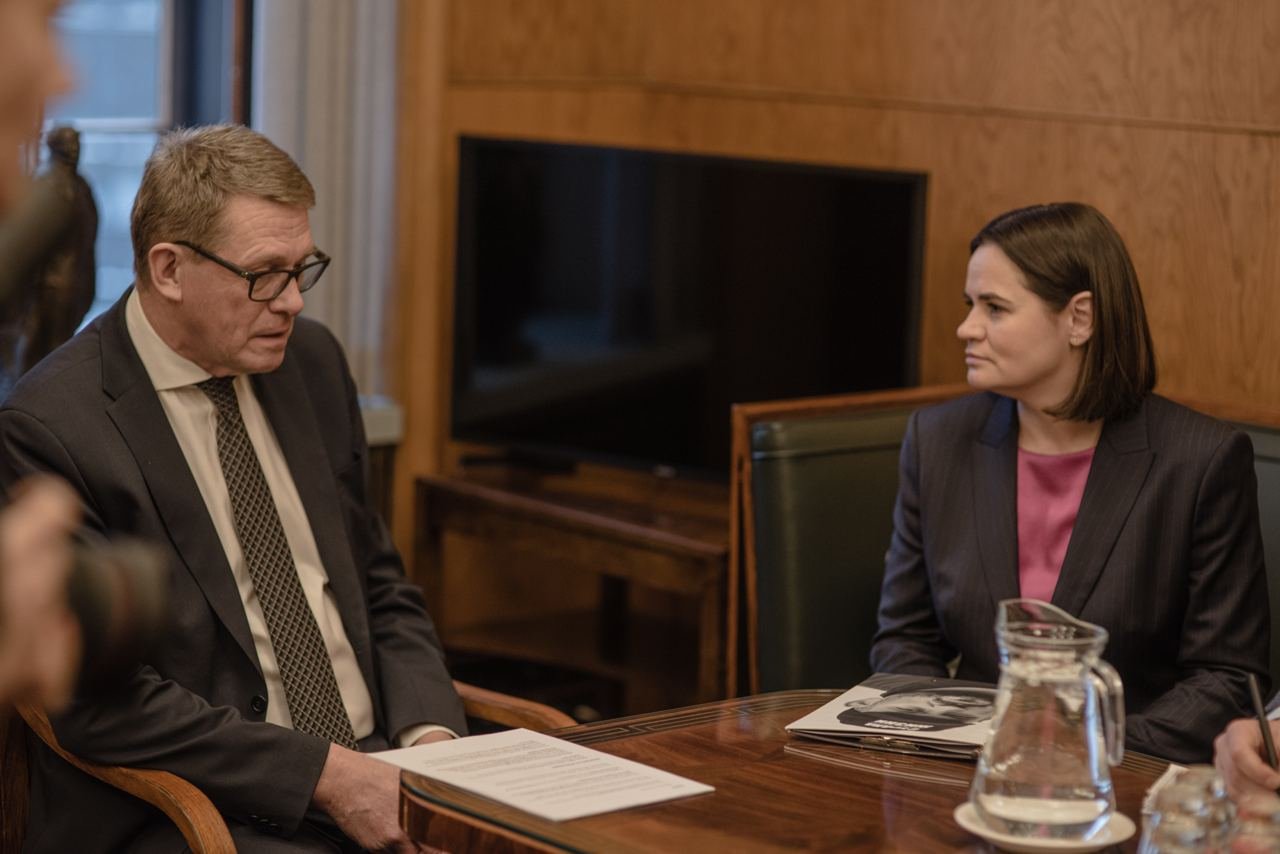 Source: Sviatlana Tsikhanouskaya