Sviatlana Tsikhanouskaya's Representative for Parliamentary Cooperation Anatoli Liabedzka commented on the groups and progress in their formation:
"As of today, 13 national parliaments have formed groups For Democratic Belarus: in Belgium, Canada, Czech Republic, Estonia, Georgia, Latvia, Lithuania, Moldova, Poland, Sweden, the UK, Ukraine, and the US. And the establishment of such parliamentary groups is underway in six more countries: Finland, France, Germany, Iceland, the Netherlands, and Norway.
What they give us is not just the formal presence of our allies and friends of democratic Belarus in parliaments. They provide a real lever of pressure on the regime and support for free Belarusians. Such parliamentary groups have already united more than 200 parliamentarians who are not indifferent to Belarusians' future and are ready to spend their time and efforts to ensure that positive changes come to our country as soon as possible.
Groups For Democratic Belarus have:
Promoted the Belarusian issue on the agenda in view of the war in Ukraine and continued delegitimizing the regime.
Passed more than 20 resolutions (this year alone) on the situation in Belarus, condemning repression and proposing to recognize GUBAZiK and KGB as terrorist organizations and launch a special tribunal against the regime.
Expressed their willingness to host Belarusians for internships in national parliaments, to train personnel for the new Belarus.
Adopted laws to support civil society in Belarus.
Taken patronage over political prisoners and held rallies and solidarity campaigns in support of the repressed. Dozens of MPs have become "godparents" to political prisoners in Belarus.
Maintained official contacts with Sviatlana Tsikhanouskaya and supported democratic Belarus in such international organizations as PACE, OSCE, and European Parliament.
Voiced Belarusians' positions at plenary sessions of parliaments of Lithuania, Latvia, Estonia, and other countries, and protected Belarus' national interests.
Provided quality legal expertise on the draft Constitution of New Belarus and a raft of legislation developed to complement the future Constitution".
The map shows the countries which already have groups For Democratic Belarus, as well as countries where the work on their formation is underway.
Find more information about the activities of Sviatlana Tsikhanouskaya's Representative for Parliamentary Cooperation, parliamentary groups For Democratic Belarus, and parliamentary government at the link. Use Telegram's built-in translation tools.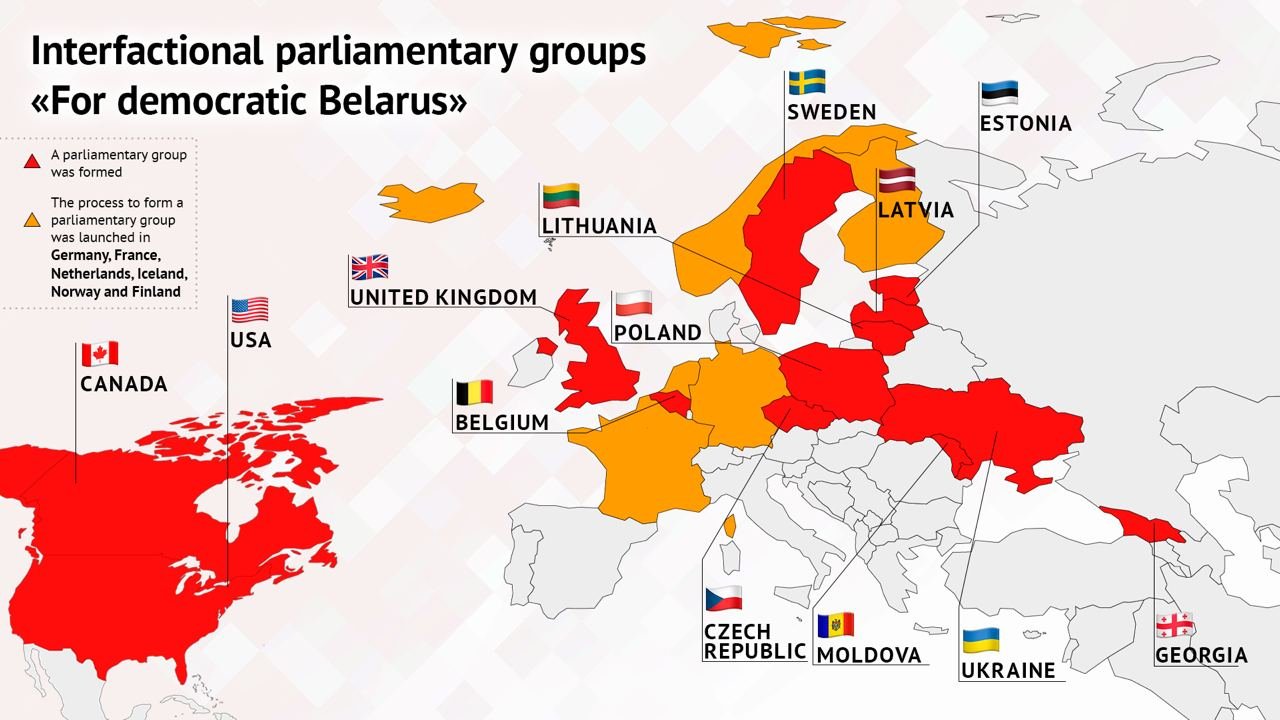 Source: Sviatlana Tsikhanouskaya