"Chancellor Schallenberg, Minister Linhart, honorable guests, friends of Belarus,
I join this conversation with deep gratitude to Austria for bringing together major stakeholders. I remember we discussed the idea of such an event half a year ago with you, Chancellor, and here we are.
It's the very first time the Belarus crisis is discussed in such a high-level setting. Of course, I wish this discussion happened in August 2020, so we could have saved many lives and potential for Belarus.
I wish to remind you of the sequence of events which lead to the crisis we are facing right now:
– August 2020: elections are stolen. Mass protests followed by mass repressions. Evidence of torture. Deliberate murders. Myself and other political leaders forced into exile.
– Next – crackdown on civil society: 240 NGOs and 40 media outlets liquidated. We have a de facto military dictatorship.
– Earlier this year: Ryanair flight hijack, arrest of Raman Pratasevich. Attempt to kidnap Olympic athlete and death of diaspora activist in Kyiv.
– And finally: orchestrated border crisis which is a de facto hybrid attack on the EU.
The acute humanitarian and political crises in Belarus clearly show that the situation is far from stable. The dictator, clinging to power, feeling total impunity, continues to terrorize not only Belarusians but also neighboring countries.
Belarusians do not feel safe in their country, and Europe cannot feel safe as long as Lukashenka is in power.
You could see his recent interview with BBC, where he admitted mass torture and facilitation of migrant smuggling. He doesn't seem like a person in control of the situation. Moreover, he seems to be insecure and desperate. He acts impulsively and emotionally, aiming to stay in power by all means. Today it is the smuggling of migrants – what will he do tomorrow?
I will be honest with you. With the help of terror, the regime managed to force the protest into the underground, but it did not destroy it. We've preserved unity and connection with Belarusians. We've been building structures in the country to keep the movement going: such as underground media, volunteers network, striking committees, and cyber-partisans.
International solidarity plays a crucial role in our movement as well. It motivates Belarusians to continue their struggle, they don't feel abandoned. It also puts pressure on the regime, divides elites, and raises costs of repressions.
Unfortunately, the more the crisis drags on, the more tempting the return to "business as usual" and "real-politik" becomes.
We can see it with the border crisis: the regime in part got what it wanted — some extra legitimation through engagement. But we stress that it should not be the norm. There is no point in engaging with the regime because it cannot be trusted.
We also see the regime is trying to destroy the unity that existed among European leaders up to date. The situation with migrants created some turbulence in relations between EU states, and the regime takes advantage of it. Unity is key for Belarus' democratic forces as well. The regime tried badly to divide us but failed.
We also need consistency in our demands and our actions. We should not lose focus from elections. Only elections can bring real changes, not imitation. The constitutional referendum proposed by the regime is aimed to freeze the crisis and strengthen the authoritarian system. Two days ago democratic forces of Belarus presented the joint strategy for the so-called referendum. There are no conditions now to hold a democratic referendum, but we will use our right to vote and will deprive the regime of any remaining legitimacy.
We also need consistency with regard to the sanctions — if adopted they need to be solid and without loopholes. Half-measures are only harmful.
I propose to discuss today the principles of international strategy for the Belarus crisis and solidify a coalition to promote it.
Our proposals are very clear:
We call for keeping strong pressure on this regime in all forms, including diplomatic isolation and economic and individual sanctions. The aim is to force the regime to stop the repressions and start talking to the Belarusian people.
The release of all political prisoners is the precondition for negotiations with Belarusian society. The solution will be in free and fair elections under international observation.
There can be no concessions made to the unlawful regime that uses torture, violence, and mass repressions against its own people.
Belarus' independence and sovereignty can not be traded or undermined. All deals signed by the illegitimate ruler can not be recognized.
Chancellor Schallenberg, you have been a strong supporter of the twin-track approach. On the one side – strong sanctions policy. And at the same time engaging – civil society. This is the approach that we fully support.
We understand that this conference today is the first step to real – not facade – changes in the country. In the nearest possible future, we hope to gather again, perhaps in a broader format, and make sure to take practical steps on solving the Belarus crisis.
Thank you".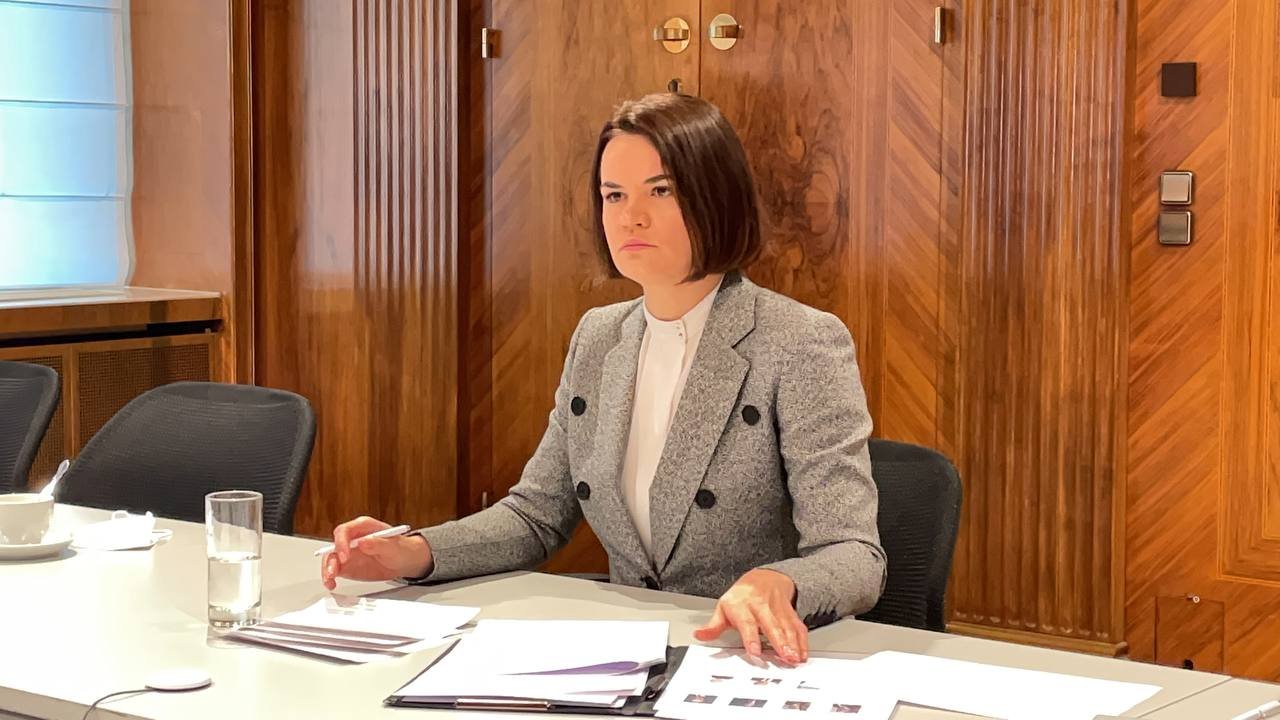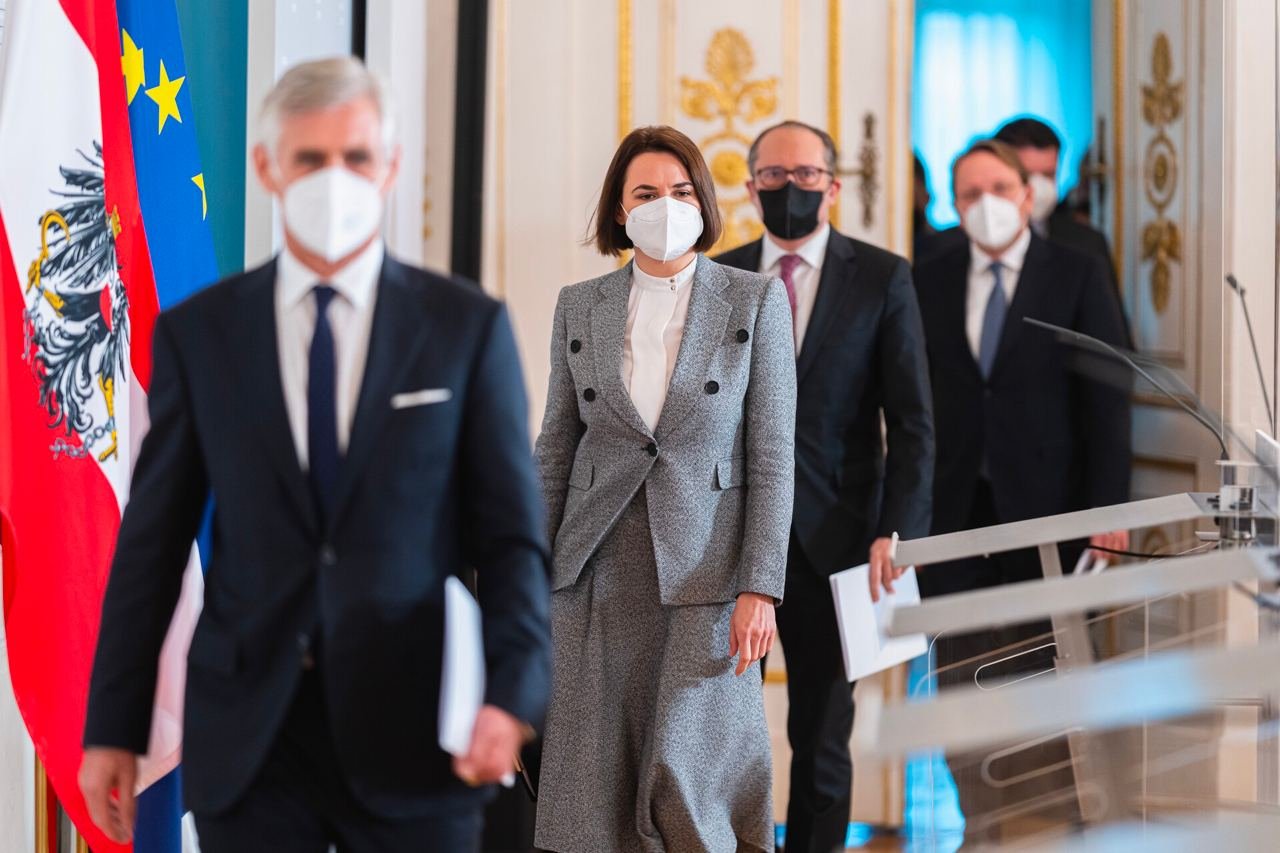 Source: Sviatlana Tsikhanouskaya